Scaling digital businesses:
Excubate Business Model Audit
Many companies have developed and invested into a portfolio of new businesses, many of which are still struggling to move from MVP to a scaling venture with tangible momentum.
The root cause lies in one or more aspects of the business model, e.g. value creation for company and customers, technical ability, data security, team skill & will, adherence to regulation, …
With a very structured, thorough and quick scalability audit, Excubate creates transparency on those aspectsthat are either already set up for scaling success ("green"), need further improvement ("yellow") or are a major roadblock to growth ("red").
Case Example: Smart sensor solution in petrochemical industries
Our client, a large technology corporation, developed a sensor-based digital solution, for the ongoing monitoring of hazardous leakages. The solution is aimed at large petrochemical plants, where a manual observation or monitoring of pipes is either difficult or not possible at all. Furthermore, the digital solution complemented the complex hardware portfolio of our client. The well working MVP was already being tested with pilot customers and a global, commercial rollout was imminent.
Particular challenging for the client's product team, was the embedding of this new, digital solution into the complex and hardware-based core business of the corporation.
To ensure & prepare a smooth rollout, Excubate conducted a 4 week business model audit, to identify potential challenges early on and to support our client in leading this product to tangible revenues.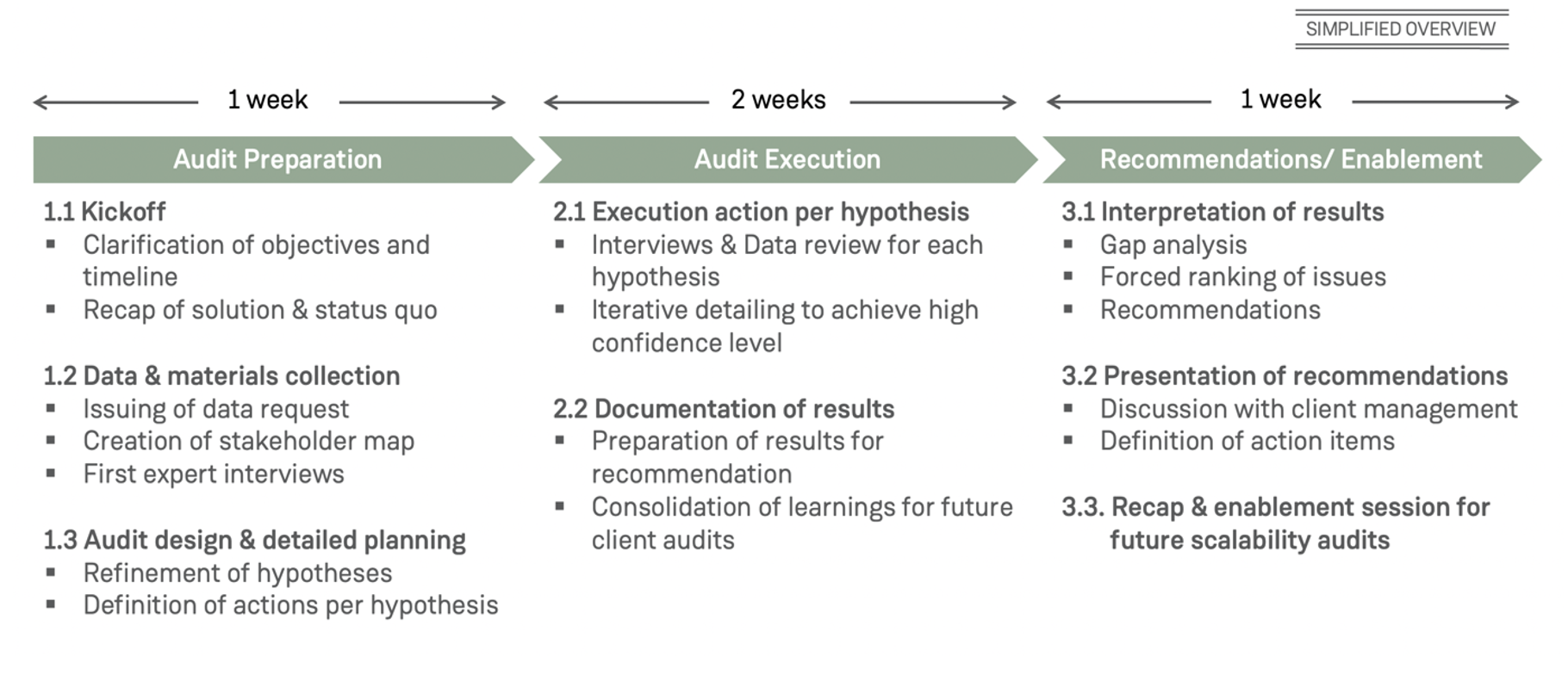 Overview: Business model audit in three phases
Timeline & Project Structure
The audit was conducted in three consecutive phases:
Preparation
Kickoff workshop at client site to understand status quo and discuss most imminent challenges; Data & material request; Customizing of Excubate best practice audit hypothesis tree to client situation
Execution
Read through and analyses of all provided materials, interviews with experts, customers and senior stakeholders (including workstream leads); Thorough documentation of insights and results per defined hypothesis
Recommendation & Enablement
Interpretation of results by identifying & force ranking challenges & gaps; Usage of a green-yellow-red color code to create transparency on most critical aspects; Recommendation of tangible action, based on expert insights, best practices & Excubate experience.
The Excubate team worked in a hybrid, hands-on mode. Interviews with relevant stakeholders were conducted on client-site, remotely or in the Excubate Munich office. The project was delivered by a classical consulting team, with a minor partner allocation (challenger & strategic lead), led by a Project Lead (overall project responsibility) and supported by a Consultant (Research & analytics).
Focus of Analysis & Results
Beyond relationship to the core business, Excubate thoroughly investigated customer requirements & value proposition, general business model design & pricing, operating model & procurement, technical feasibility, as well as legal topics. Our hypothesis driven approach ensured full focus on most critical business model levers.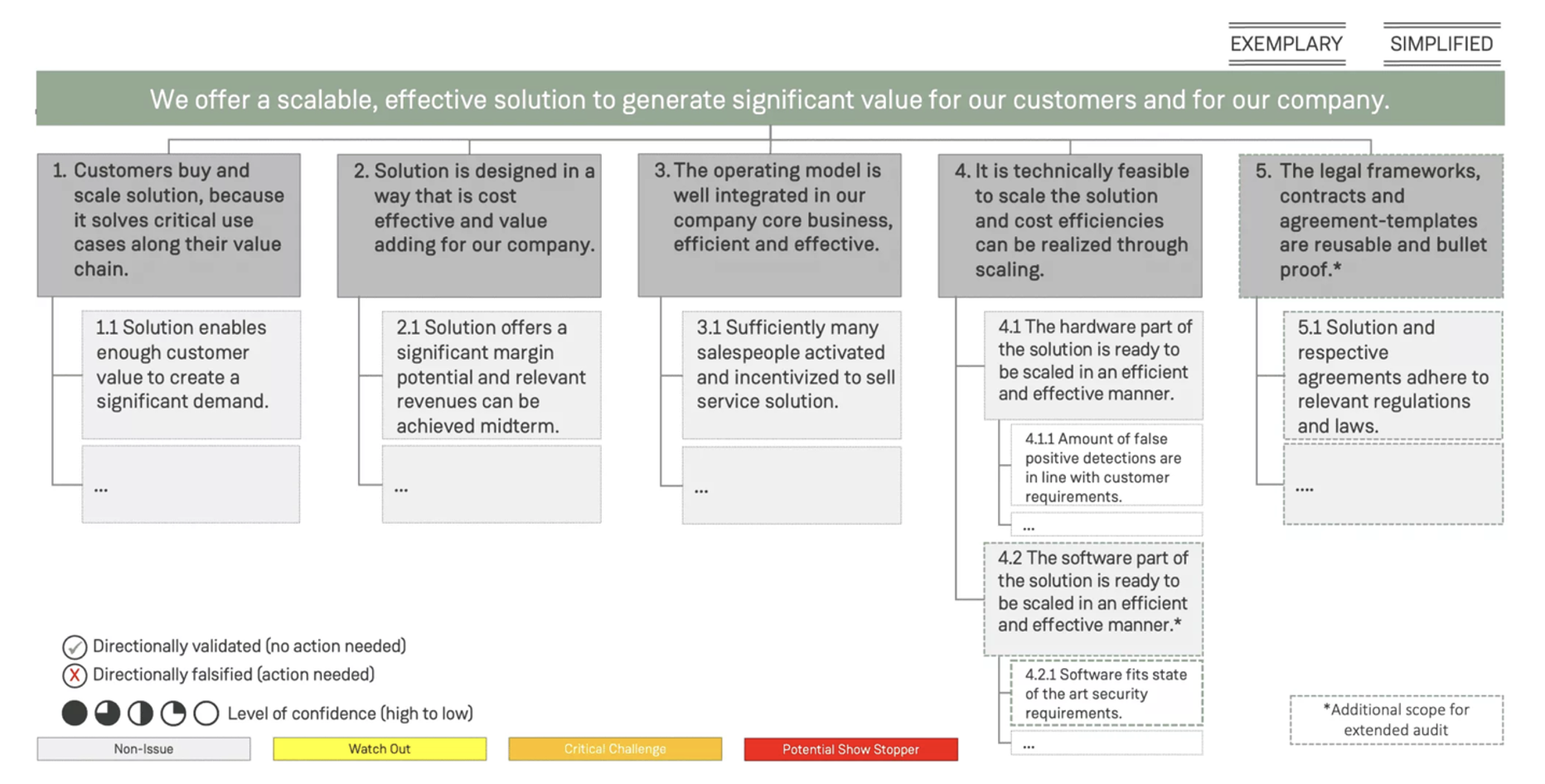 For each hypothesis a deep dive analysis of the status quo was conducted and a respective results one pager in the logic "the good, the bad, the ugly" was created. Based on these one pagers, a list of tangible recommendations for action were formulated, to mend the identified issues.
In the short time frame of 4 weeks, over 30 interviews were conducted, and a large variety of materials were analyzed, to create the following output:
Assessed hypothesis tree with color coding, to showcase severity of challenges (green, yellow, red)
30+ detailed one-pagers per hypothesis, documenting status quo and sources, as well as identified roadblocks and recommended solutions
An executive summary of our recommendations for short-term implementation, as well as Excubate's advice on the product strategy
A full report on all findings, presented in front senior stakeholders
Based on the audit results, our client went on to formulate a 100-day action plan with respective milestones and working streams for the rollout. The launch of the product is now successfully in execution.
Are you interested in a similar business model audit for your company? Do you have any further questions on our methodology?
Feel free to contact our Partner Dr. Markus Anding (markus.anding@excubate.de) or our Project Lead Jan Hartung (jan.hartung@excubate.de) any time!