What is prototype validation and why is it relevant?
In recent years, the pace and mode of corporate innovation activities changed a lot. More and more business ideas are realized following the lean startup approach that has become a blueprint for independent and corporate startups alike. Central to this methodology is the validation of the business idea via an early-stage prototype. Launching a new business requires a lot of resources, so early validation is key to prevent a waste of money, time and effort and to avoid building products no one wants. 
Excubate still sees many companies struggling with building and validating prototypes. Building upon or expertise from our work with corporate clients and startups, we want to share our view on what it really takes to validate a new business idea with a prototype. We are aware that this is non-exhaustive. It aims to give you a first overview of the most important aspects throughout every validation step. We also want to share some of the hard learnings we made during a multitude of prototype developments and tests – some you don't read in textbooks. 
How to excel in validation
We understand validation as a three-step process (see figure 1). For each phase, we have outlined typical tasks (jobs-to-be-done), our view on most relevant success factors and hands-on advice for how to make it work in practice. 

The first step entails the building of the prototype and preparation of the testing phase. In this stage, the overall prototype goal and scope needs to be defined and prioritized. Here, formulating a set of hypotheses to be tested in validation and refining them through explorative interviews with end users and market experts can be a good starting point. We use a "hypothesis tree" to structure and prioritize hypotheses to be tested. 
As soon as you are confident to have a common ground, the product team can start building the backlog and developing the actual prototype and the validation team can work on an appropriate test design tailored to the desired validation outcome. Then, preparation of the testing phase can start. Test users need to be acquired and the user test needs to be planned. Also, the logistics and resources for the execution need to be put in place.  
Although this step seems straightforward, it's hard to master in practice, as there is often a high level of uncertainty and a lot of tasks to be run in parallel. Therefore, we see three key success factors which help you to excel in this step (see figure 2).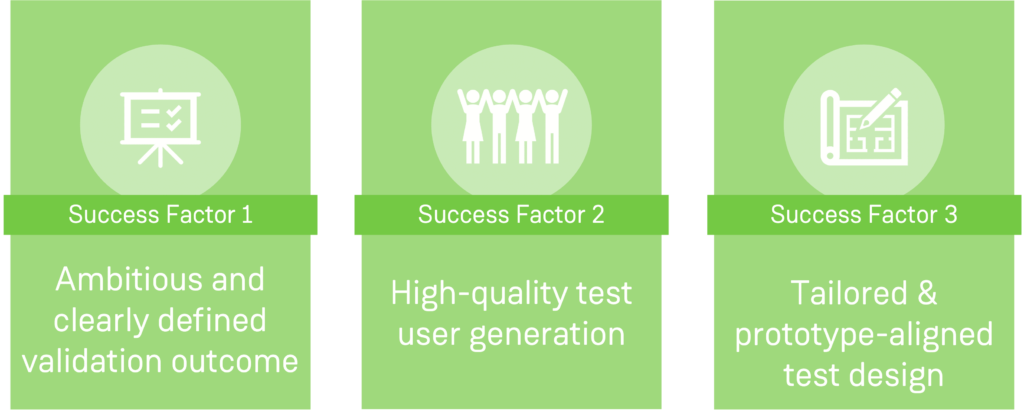 Key Success Factor 1: Ambitious and clearly defined validation outcome
Often, prototypes are built and tested without a clear view on what the validation really should prove. Adding to this validation teams stay within their comfort zone and do not reach far enough. A plethora of assumptions can be tested during validation but resources are limited. For example, you might want to prove that a great user experience can be developed, that customers continuously use the product, or that the product is technically feasible. Therefore, these priorities should be defined and clear metrics need to be established that allow for objective quantification of the results. The consequence of not doing this is a validation result that is not really addressing the right aspects in the right way or missing to evaluate some important questions at all. What we often see is that a prototype validation is too focused on one aspect (technology, user frontend, customer acceptance, …) but not the comprehensive entrepreneurial perspective. When done right validation goals are also set as stretch goals, questioning the status quo and really trying to make the hypotheses fall. A good way to start is to clearly agree (internally and with external stakeholders) on a set of validation hypotheses which can also become the inspiring north star for your validation project and even excite other stakeholders.  
Ambitious and clearly defined validation outcome: How to make it work in practice
Expert knowledge generation: Start validation by generating more knowledge on the validation object and its context by interviewing industry or target group experts. This will give you a deeper understanding what counts most for your validation project and what you should prioritize.
Be bold with your validation focus/goals: Of course it is key to define realistic goals. However, as project experience shows setting ambitious goals improves your effectiveness even when not meeting them 100%. Further, stretch goals generate management attention, motivate the team and help to deeply scrutinize the whole business idea. Always set a goal, consider what is doable and than slightly adjust the goal to the upper side.
Hypotheses as north star: Use the stated hypotheses as the project's north star. It is extremely important to share them with your development team and designers to use the hypotheses 
Key Success Factor 2: High-quality test user generation
As user tests have usually smaller sample sizes it is paramount to select test users that give a good representation of your target group. Wrong samples in quality and quantity might produce misleading results in the end confirming or rejecting a business idea by mistake. For example, prevent to test prototypes with a large group of 'family and friends' participants. Either they only participate to do you a favor and don't like the business idea at all, or they tend to avoid giving negative feedback due to personal relationships – or even give too tough feedback because you asked them not to be too positive. Moreover, when target groups are hard to access, the process of acquiring test users is to be set up as efficiently as possible to save resources and lower bias.
High-quality test user generation: How to make it work in practice
Early user acquisition: Treat user acquisition as a substantial task and start early. You can use expert resources to inform yourself about the target group. This helps you when communicating with the target group, setting up the test design in a user-oriented way and might generate further channels to reach out. Go and map all your available channels and key stakeholders for acquisition. Use the ones that allow for the best cost-quality ratio. Specialized agencies allow for high-quality samples.
Target group selection with right incentives: Be careful how you motivate and pick your test users. Try to balance the trade-off between a large sample generated from your private network as well as incentives and a smaller sample of high-quality test users. Note that friends & family might be far off the target group or will have a bias in their ratings, so at least monitor these effects closely and ensure that they are intrinsically motivated. Financial incentives might be useful to acquire the right sample but be careful to not attract people that are only after the reward.
Key Success Factor 3: Tailored & prototype-aligned test design
Validation is primarily about running experiments to test hypotheses about your product, so test design is the centerpiece. A tailored test design that takes all essential variables into account will assure that the user feedback really helps to check the hypotheses and it will allow for flexibility when you need to adjust the setting. Many validation projects lack such a tailored test design for various reasons: Often design is not aligned to the validation hypotheses or there is a lack of understanding of the test users and their needs. We also regularly see that the test design is not aligned with the development of the prototype itself – foster exchange between developers & test planning to make sure that the prototype has the tech stack and features to test well within the validation setup and vice versa! When it comes to preparation of the tests, often team members which run the tests are not familiar with the test design – or the test design is lacking a plan B if something does not work as planned.
Tailored & prototype-aligned test design: How to make it work in practice
 Alignment with hypotheses: Ensure testing design closely reflects the hypotheses. Mapping the hypotheses with your testing design will help you not to miss an aspect. A deliberate mix of qualitative and quantitative data is often helpful to cover different aspects and triangulate findings. If feasible, try to use the test design to also frontload and generate data on hypotheses that need to be answered later (e.g., pricing).

Inclusion of designers: Emphasize deeply with your team and align your testing approach with your designers. Ensuring this, you achieve that the test itself does not affect the users experience negatively. Personas can be a useful tool to create a test design with your user in mind.

Thorough internal test preparation: Run dedicated briefing sessions with the involved team members. Make sure that everything is in place by overcommunicating towards testing team and test users alike to prevent any negative experience from the testing procedure itself. Try also to secure key resources for testing as early as possible.

Proactive risk management: Plan for different scenarios and have fallback solutions in place. For this purpose, conduct a decent risk analysis when planning the test design.
In this phase, the validation team conducts, documents, and manages the user tests. According to our experience, even if the team is well-prepared and highly committed, the first tests often reveal fast need for adaption. Therefore, test execution bears the risk of turning into chaos. To mitigate this risk significantly, we have some practical insights (see figure 3) that help you navigate through test execution.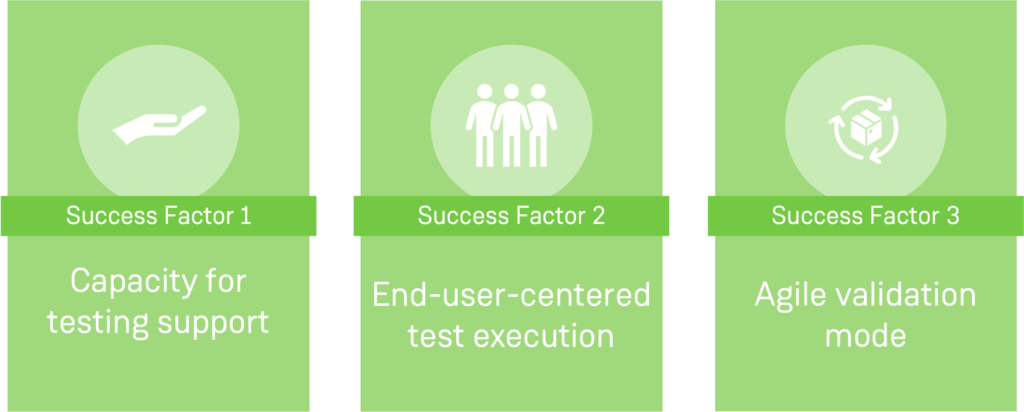 Success Factor 2: End-user-centered test execution
Many validation projects forego to run tests very close and oriented towards the person testing the product. When validating a business idea with a prototype, you want to mitigate misleading feedback that is not coming from the product features itself. Therefore, designing and executing the tests from an end-user perspective and ensuring they feel comfortable is even more important. It maximizes the validity of the tests and gets you the deepest insight in your users' experience.
End-user-centered test execution: How to make it work in practice
User-centric test journey: Establish a high user experience also in the test journey by providing comprehensive information, fast response to questions and friendly clear guidance for the test user.
Strong test user guidance: Always assure that the user has the right understanding for the task and questions asked. This minimizes unwanted biases and gives your results better robustness for hypothesis validation. Also make sure to create an environment where the user is understanding the context and expectations of what you are doing.
Documentation of users' additional behavior and questions: Leave room for the users' feeling and thinking and capture it to validate your hypotheses and eventually refine the prototype. Let them take the lead and majority of the share of voice. Take notes on users' behavior in action and only talk when necessary to capture ad-hoc follow-up questions to dig deeper.
Success Factor 3: Agile validation mode
When following the lean startup methodology for validating a highly immature solution, your project will very likely evolve differently than you planned for. Continuous planning is necessary and helps to remove the bigger obstacles. However, many issues will emerge that you need to quickly act upon. Many project teams though want to run validation in classic waterfall mode, only coming up with one simple project plan. This inhibits them to reflect their project progress and flexibly adjust single activities and milestones. Do better and use agile principles: This allows you to optimize for speed and rather fix issues on the fly, using for example the clearly assigned bug fixing capacity (as mentioned before).
Agile validation mode: How to make it work in practice
Continuous monitoring and adjustment of hypotheses: Check and discuss your validation hypotheses regularly within your team during test execution and evaluate if priorities have changed, new hypotheses need to be added or if the test design should be adjusted to better validate hypotheses.
'Overcommunication' towards all stakeholders: Adapt quickly and recognize that overcommunication in all directions and emerging shifts are rather the new normal than exception. In case of needed changes during test execution, ensure you communicate transparently and proactively – not only towards the test users but also towards all other stakeholders, e.g., internal sponsors and external partners. Additionally, try to create the culture and meeting structures to allow your team to interact accordingly.
 
Wrapping-up the validation there are two essential tasks. First, test results need to be summarized and communicated towards the involved stakeholders. Second, as validation is only one step within the overall innovation process, it also includes the preparation of the post-validation phase for further developing the business idea and bringing it to the market.
The analyze & decide phase will help your validation to finalize test results and keep the momentum of your overall innovation process. For preventing your prototype from ending up on the sidelines we have two success factors that we discovered in practice (see figure 4).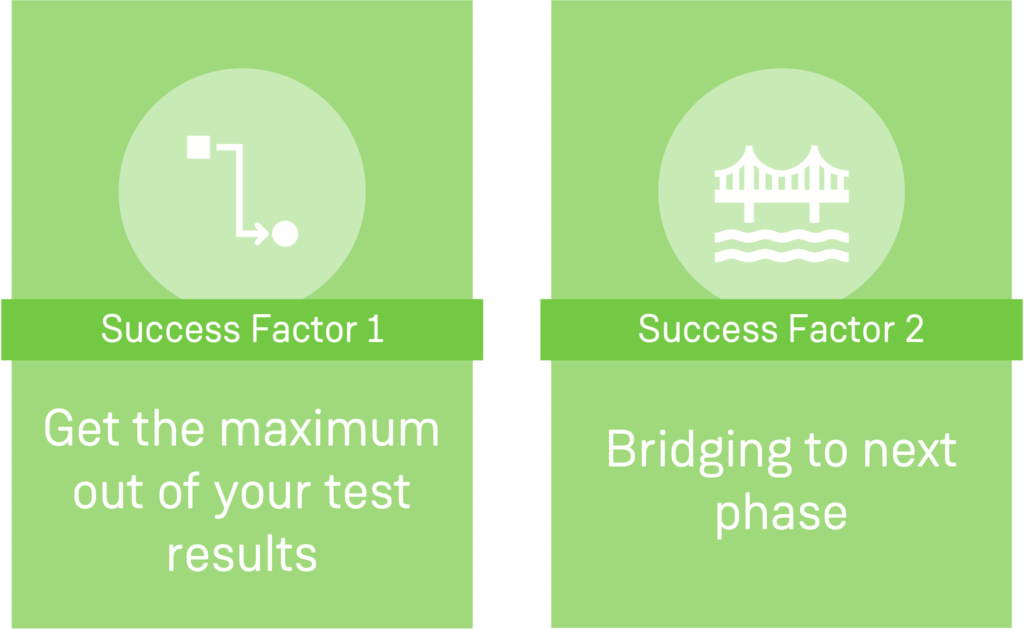 Success Factor 1: Get the maximum out of your test results
To increase the chance of success for your prototype to turn into a mature product, ensure to get the maximum out of your test results. As we have often seen, prototype test results are documented in a final presentation but do not tap the full potential. Many teams do not incorporate the validation results into other key deliverables, e.g. business case and product backlog. Moreover, they do not challenge and triangulate them with other complementing analyses done upfront of prototype testing. Finally, results are often only communicated in a final management meeting without playing them back to other stakeholders.
Get the maximum out of your test results: How to make it work in practice
Adaption of other deliverables: Incorporate the generated insights into other deliverables like business cases and product backlog. Also compare them with other analyses from different perspectives like competitor research and market trends to have a proper sanity check.
Deepen pricing research: Especially for very complex and immature business ideas price indications from initial validation are often speculative. Question your pricing approach and spend effort to deepen pricing research. This means to challenge identified price points with follow-up surveys and complementing lean experiments.
Proactive communication of results: Communicate the gained insights to relevant stakeholders. These might be inside or outside the company. For both sharing meaningful insights will generate motivation to keep involved and support the further phases. Watch out not to lose focus and ownership getting caught in exuberant corporate processes.
 
Success Factor 2: Bridging to next phase
Validation is not an end, but a necessary step when bringing a successful product to the market. When your validation result are positive and critical hypotheses are validated, you want to make it to the next phase and further develop your prototype, design the business model, and scale it in the market. Despite this inevitable truth many projects are discontinued or delayed due to shirt-sleeved wrap-up of validation. By outlining the next project phase and communicating the plan towards internal stakeholders with a clear call to action, you can create the desired momentum for your product to be further developed.
Bridging to next phase: How to make it work in practice
Roadmap and business case: Structure the next steps in a roadmap and put a price tag behind the to-dos. This will prepare you for management discussions and increases the understanding and transparency of the due investments.
Partnership acquisition: If your preliminary business model needs key partners that you have already involved in the recent validation phase, try to ensure their commitment. Use the final prototype to showcase the achievement and make the business idea tangible. If possible, gather formalized buy-in by signing e.g., letters of intent.
Topicality check: When you are close to kick-off for the further phase, make sure that the validation results and the assumptions derived for next phase are still up to date. If you see red flags do some additional research and adapt the project setup for the next phase.

 

This article is based on our experience in validating a multitude of business models and prototypes with our clients.

Excubate has a battle-proven approach for successfully developing and validating your business idea with a prototype in only 12 weeks. You want to learn more about our Corporate Startup Campus? Then get in touch with us!