Nine main barriers seem to hinder Corporate Innovation, all are self-inflicted
Traditional corporate innovation approaches (incubation and acceleration) fail to fully address them and show limited empirical success
Corporates react by closing or repurposing corporate incubators and rely more on later stage startup investments or external company builders, paying substantial mark-ups
The Excubation approach addresses corporate innovation barriers more holistically and can be a way for corporates to innovate and build themselves, relying less on cash-intense startup-investments or external company building
Introduction: Innovation is easy, innovation is hard
Second maybe only to the term digitalization, innovation is one of the most glamorous labels that companies and individuals want to be associated with these days. And it is easy to do: Some innovation workshops, some time & budget allocation for creative internal teams to work on business ideas, a public commitment to leveraging current technology, say: blockchain, for every imaginable task and a fancy incubator far away from the core business are common in most companies now.

 

Worldwide, companies are building innovation centers, yet only few actually transform ideas into real products/services in a foreseeable timeframe. For example, in fall 2018 Siemens just announced another innovation mammoth to be built in Berlin with a €600 million funding – by 2030.

 

Succeeding with innovation and capturing real value from new business is hard and successful approaches have indeed been rare. Many corporate incubators like Wayra of Telefonica, Allianz X, Coca Cola Founders Initiative, or Plug & Play of Springer are being "repositioned" to focus less on early stage incubation but later stage investment – or closed down altogether. Success still suffers from many primarily internal organizational and cultural barriers, kept up by the corporate immune system, despite all efforts to separate from it.
Why corporate innovation fails: Nine Barriers
"Corporates just can't innovate" is too easy a paradigm and leads to the wrong conclusions along with often too much cash-out for startup-investments. It is important to understand the key barriers more specifically and find ways to address them with an advanced incubation approach. Plenty of research has been conducted on that topic: 20+ market reports, surveys and interviews by research institutes and established consulting firms such as PwC (Reinventing Innovation), Staufen (Industrie-Monitor) and BCG (Most Innovative Companies studies) show a pattern and recurring set of barriers. These also align with empirical experience at Excubate from a multitude of innovation projects at large and mid-size corporates across industries.

 

Nine barriers consistently appear to have the highest negative impact on a firm's innovation capability, based on number of mentions in an Excubate meta-study:

Lack of time for Innovation projects
Too many ongoing projects in other departments
No alignment of company strategy and innovation strategy
Lack of innovation capabilities among staff
Insufficient adoption of innovation culture with regard to failure of projects
Inefficient process management of innovation projects
Absence of a clear innovation Road Map
Lack of financial resources
Missing commitment to take risks with regard to innovation projects

Now looking at why traditional approaches of corporate incubators and accelerators seemed to have failed: Some of these barriers have not been sufficiently overcome.
Corporate incubation barriers lead to increase in startup investments
The three most pronounced explanations for the failure of many corporate incubation programs are insufficient support/mentoring, faulty startup evaluation methodology and the fact that startup support programs are not necessarily run by companies and mentors with enough entrepreneurial experience and grit. Linking these insights to the more general corporate innovation barriers mentioned above, there seems to be a lack of strategy, skill and rigor in organizing and executing innovation projects – on all levels.
As a result, corporates are moving away from building new businesses themselves towards investing into established companies and later-stage startups that have already overcome those initial hurdles, or by acquiring ready-made businesses from external company builders.
While the reasons for corporate management to go for investment rather than incubation make sense in the light of the identified barriers, this move is not entirely rational. Investment in external startups, naturally, comes with a substantial mark-up and skyrocketing valuations. For example, SaaS, Deeptech and Marketplace startups are valued in the range of 8-9 times revenue with Fintech startup multiples reach as high as 14-17 and medtech even beyond 20 (source: avoltapartners tech transaction multiples 2018). So, essentially, corporates are buying highly valued options for future revenues, which not necessarily fully fit with their actual innovation objective. They easily end up paying 200% of the value for 60% of what they actually want to innovate. Any approach that helps Corporates pay 120% for 90% of what they need would be vastly superior – and financially much more rational. It would, however, require overcoming the main corporate innovation barriers.
Excubation approach to overcome corporate innovation barriers
Excubation, as outlined in the Excubate innovation blog at Swiss Innovation Factory Park Innovaare, is the smart separation of corporate exploitation and exploration endeavors, where new ventures are given access to existing corporate assets (client base, technology, patents, etc.), while also being allowed to bypass the typical limitations of the corporate conventions and processes. The "smartness" of this approach lies in ensuring a cohesive, tight exchange between the in- and out-flow of innovation and a tailoring of the corporate support to the needs of the individual venture business model. It explicitly challenges the classical cookie-cutter approach of doing it all in-house or all external.

 

Excubation encompasses seven rules as the main pillars of the model:

Rule 1: Separate innovation from Execution (Separate both activities to ensure that neither one is too strongly influenced by the other)
Rule 2: Attract entrepreneurial talent (Incentivise and promote innovation to attract and retain employees with entrepreneurial talent)
Rule 3: Facilitate innovation flow (Establish an agile and efficient innovation process; and closely connect the innovation teams to resources)
Rule 4: Manage innovation portfolio (Focus the innovation portfolio on internal as well as external sources of innovation)
Rule 5: Inspire employees (Introduce your employees to a culture of innovation to discover and foster entrepreneurial talent)
Rule 6: Educate employees (Provide your employees with a toolset for innovation, but more importantly, give them the opportunity to apply it)
Rule 7: Support idea flow (Promote sourcing and ideation of future business models within the company & ensure transfer of ideas to the Innovation Units)

 

Mapping these seven rules against the identified innovation barriers shows how the Excubate approach can help to overcome them. A scaling model helps classify whether a rule has a strong, weak or no effect on a barrier, based on Excubate project and client experience. The number of rules that had the ability to positively impact a barrier is used as an indicator for how well Excubation can address that barrier.

 

The actual impact of each rule on each barrier has been reviewed in larger detail but should not be outlined here in favor of a summary of the insights in the table below.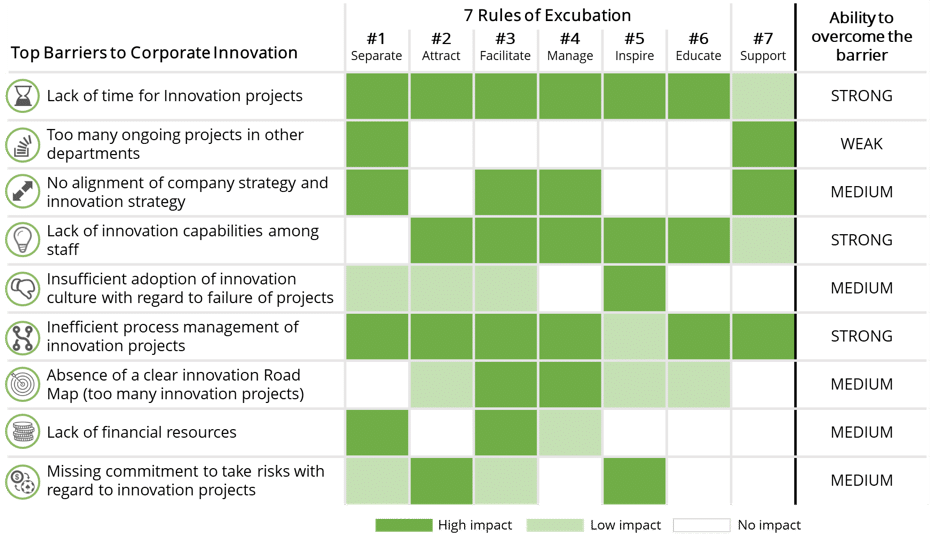 The table shows that the Excubation approach has an impact on each of the barriers. All excubation rules have a similar importance and those corporates fare best that implement them most thoroughly and repeatably.
The novelty of the Excubation concept, the respective nuts and bolts of its implementation and the – as in any case – required senior management backing are still hurdles for a broader empirical study of the benefits. Still, given the lack of impact of current corporate innovation approaches and soon to come tighter cash management policies of corporates (latest in the next recession) we expect to see more companies deploy Excubation and build Excubator units to drive corporate innovation.
For a more in-depth conversation, reach out to Excubate at innovate@excubate.de.