Implementation – The DIPOC action plan
After outlining how the DIPOC elements should be designed to build a functioning digital operating model, we will now give an overview on how to implement it in an actual project. This clearly depends on the individual organization, but there are general best practice approaches that we can share.
Making any change to a company's operating model is difficult and goes against the human nature to protect the status quo. Thus, besides the actual project and the plan to go about it, the operating model transformation needs a board-level sponsor and the full backing by the top management to make it move beyond just a thought experiment. This process should not be started unless there is a clear commitment to actually make painful changes. Ideally a management board member takes the sponsor role for the digital operating model project and allocates sufficient time to it.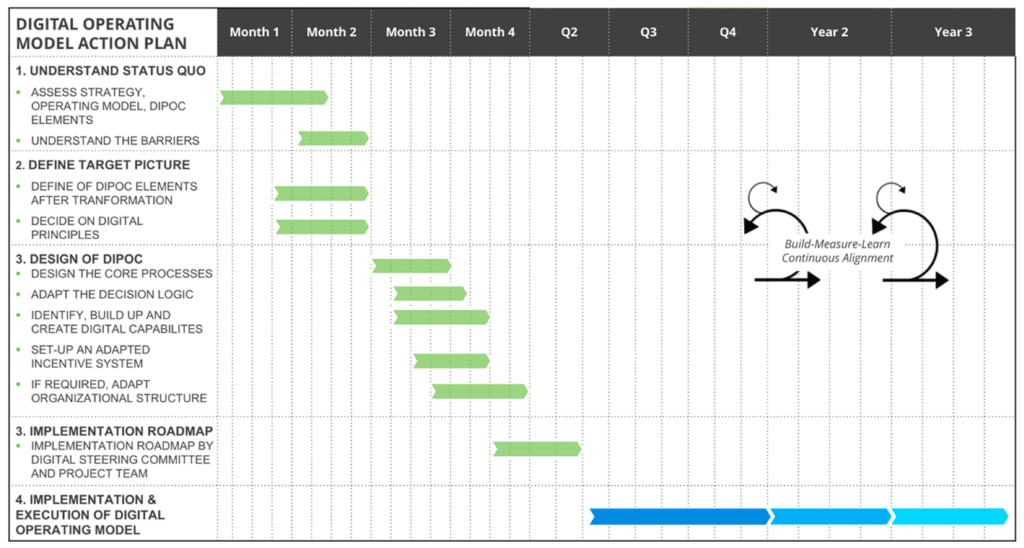 In the first actual project phase, focus should be on fully understanding the status quo. The current operating model, the digital measures already taken and the state of the DIPOC components (processes, capabilities, …) are assessed. This understanding is typically best achieved via interviews with key stakeholders, customers, employees and executives as well as an analysis of existing materials. After diligent structuring and documentation, the project team collaboratively crafts a target picture of the future state and its development over time. At this stage, it is vital to define design principles, fitting with the organizations DNA and vision. These principles can refer to a working mode e.g. "make decisions as low in the organization as possible, as high as necessary", express a focus e.g. on "customer-centric design" or values such as consistency, speed, accountability. These sources of value should be reflected in the design of each of the DIPOC elements.
After defining the DIPOC elements' target picture, the specific design of DIPOC can then be tackled. An implementation roadmap should guide the implementation over a time horizon of 2-3 years, following an agile build-measure-learn approach. Thus, rather than overanalyzing every detail of the DIPOC elements in the beginning, a quick implementation start and flexible adjustments based on initial learnings are more effective and we typically allocate not more than 5-6 months for this first phase before actual implementation. At the start of the implementation, however, it is crucial that the digital units or commitees that have been agreed on to be implemented, take clear ownership of the implementation process.
Overall, setting up the operating model for a successful path into digitalization is a hairy endeavor. Not only does it require the smart design of the different operating model elements in line with the digital strategy, which often still is a moving target, it also needs stakeholders to make difficult changes to how they operate day-to-day and, thus, must be tackled with a sufficient level of empathy. Excubate has experience in helping companies define and make these changes. We are happy to share this experience and welcome the opportunity to have a conversation: innovate@excubate.de